Tuesday Long Walks Schedule
HEARTBEAT
Tuesday
Walk Programme
up to
End of March 2022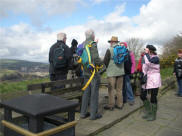 PLEASE NOTE THESE WALKS REQUIRE SUITABLE WALKING BOOTS OR SHOES AND SUITABLE CLOTHING AS THEY ARE 2 TO 3 HOURS LONG AND OFTEN OVER WET / MUDDY / DIFFICULT GROUND
Please note Tuesday walks are run by CREW Heart Support Group, Halifax.
DATE
MEET
DESTINATION
LEADER
DISTANCE
GRADE
MEET AT
TUESDAY 12 JUL
10:00
BEACON HILL & SOUTHOWRAM
BRIAN
4 miles
2 stiles
1 scramble
2+
Hipperholme, Off A58 just below Pet Centre, HX3 8HR
TUESDAY 26 JUL
10:00
COLNE BRIDGE, GREENWAY & CANAL
BRIAN
3.5 miles
no stiles
'stroll walk'
1
Royal & Ancient, Dalton Bank Road, Huddersfield, HD5 0RE
Tuesday Walks Contact Details:
Brian Birkby 01484 712037 mobile 07875 653 409 only available on led walks;
Weather doubtful: ring walk leader 8.30 am - 9.00 am, to confirm if walk to go ahead.
If walk starts from a pub, please use car park only if staying for refreshments.
Grade 2+ more strenuous; Grade 2++ tough at times