Health / Short Walks
HEARTBEAT
Health Walks
Programme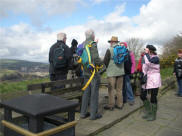 DATE
START
DESTINATION
LEADER
DISTANCE
GRADE
MEET AT
SATURDAY 9 DEC
11:00
CLIFTON CIRCULAR
KEN & MIKE
0-3 MILES
1
10:50 Towngate, Clifton, HD6 4HP
SATURDAY 23 DEC
11:00
SALTERHEBBLE HEBBLE TRAIL & BACK
KEN & MIKE
0-3 MILES
1
10:50 Water Mill, Salterhebble Hill, Huddersfield Rd, Halifax, HX3 0QT
SATURDAY 30 DEC
11:00
SPEN VALLEY GREENWAY (TWO WAY)
ROGER
0-3 MILES
1
10:50 Greenway next to Tesco Car Park, BD19 3HS
SATURDAY 6 JAN
11:00
BRIGHOUSE CANAL TOWARDS ELLAND & BACK
KEN & MIKE
0-3 MILES
1
10:50 GMB Car Park, Brighouse, HD6 1SL
SATURDAY 20 JAN
11:00
MANOR HEATH & ALBERT PROMENADE CIRCULAR
KEN & MIKE
0-3 MILES
1
10:50 Manor Heath Park Entrance, Manor Heath Rd, Halifax, HX3 0EB
SATURDAY 3 FEB
11:00
SOWERBY BRIDGE CANAL
KEN & MIKE
2-3 MILES
1
10:50 The Moorings, Sowerby Bridge, HX6 2AG
SATURDAY 17 FEB
11:00
OGDEN WATER CIRCULAR
KEN & MIKE
0-3 MILES
1
10:50 Ogden Water Car Park, HX2 8XZ
SATURDAY 2 MAR

11:20

HEBDEN BRIDGE TO MYTHOLMROYD & BACK
KEN & MIKE
2-3 MILES
1
10:52 Train from Brighouse or
11:20 Outside Hebden Bridge Railway Station, HX7 6JE
SATURDAY 16 MAR

11:10

RASTRICK TO BRIGHOUSE
KEN & MIKE
0-3 MILES
1
10:55 Brighouse Bus #563 or
11:05 Pinfold Ln, Dewsbury Rd Upper Edge, HX5 9JU
SATURDAY 30 MAR
11:00
NORLAND MOOR CIRCULAR
KEN & MIKE
0-3 MILES
1
10:50 Norland Road next to Spring Rock Inn, Norland, HX4 8PT
HEARTBEAT
Health Walks
Saturday Walks , Contact Details:
Roger Bailey - Phone: 01422 204928 or Email info@heartbeat.uk.com
HEARTBEAT runs Health Walks every alternate Saturday.
So what is a Health Walk?
The short definition of a health walk is "a purposeful, brisk walk undertaken on a regular basis" and it can include any walk which is specifically designed and carried out for the purpose of improving an individual's health.
It is the relative intensity of the walk for the individual and the regularity of participation that can really have an impact on heart health. With regard to cardiovascular health, the walk should be purposeful and 'brisk' (in other words more than just a stroll). Organised walks (brisk or not) can have a health impact on individuals by providing an opportunity to socialise (good social networks enhance health) and a distraction from everyday stresses (stress contributes to poor health).
HEARTBEAT has 8 trained Health Walk Leaders. Dependant on the walk we will either split in to 2 walks and have a Walk Leader at the front and rear of each group or have one group with Walk Leaders at the front and rear and mixed in the main body.
NOTE: All new walkers have to register and declare their fitness to walk for insurance purposes. If you have any doubt please contact your doctor before coming on a walk.
Family and friends are welcome. Suitable clothing and footwear should be worn. Any specific medication should be brought with you and advised to the Walk Leader before the start of the walk. There is no charge and we normally have lunch at the end of the walks. The current programme is below.
The Saturday Health Walks continue to offer a varied and well supported programme. With the winter months upon us again we need to be careful to use the safer pathways saving the more ambitious walks for later in the year. We offer extended walks to those capable of approaching slightly more demanding routes but we are proud of our support for anyone who is just starting or returning to exercise and who therefore needs to take things slowly.
Note: We carry a Defibrillator on all our Saturday walks and 6 of our Walk Leaders are trained in its use and CPR.
Please note that bus timetables can alter. We will do our best to inform you of any changes.
HEALTH WALKS are level or downhill and have few obstacles.
All Health Walks will start from Brighouse unless otherwise stated. Meeting 10.45 for already enrolled walkers. They will be approximately one hour's duration. Detail will be added later (Please note that bus timetables can alter. We will try to notify you of any changes.)
Telephone: Roger Bailey 01422-204928, or e-mail: info@heartbeat.uk.com
PLEASE NOTE NEW WALKERS WILL HAVE TO COMPLETE A QUESTIONNAIRE FOR INSURANCE PURPOSES