History
We started in Brighouse in October 2006 as part of CREW Heart Support Group. The official opening at the Civic Centre was made by the Mayor, Colin Stout.
On 18 September 2008 the Mayor, Conrad Winterburn officially opened our Thursday classes at the Adult Education Centre, Church Lane, Brighouse.
In all we have been at 3 venues in Brighouse; the Civic Centre then in February 2007 the Assembly Rooms in 2008 and lastly to the Adult Education Centre, Church Lane in February 2009. On 2 March 2015 we moved to our new premises at the Brighouse Sports Club.
Mayor, Conrad Winterburn opened our first Thursday Class in September 2009.
In 2009 we introduced Tai Chi classes as well as walks every Saturday, alternating between normal and Short / Health walks.
In November 2010 we separated and became HEARTBEAT, The Brighouse Heart Support Group. We were immediately granted full affiliation to the British Heart Foundation.
In October 2011 we introduced our 7th Exercise Class on Tuesday mornings.
In May 2012 we introduced our second Tai Chi class.
In November 2013 we held our first Christmas Fair and Grotto
In May 2014 we became a charity.
In March 2015 we moved to the Brighouse Sports Club which offers modern and spacious premises to continue the growth of the group.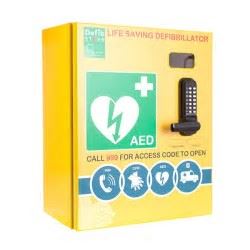 In December 2015 we purchased with donations from HEARTBEAT and BSC Sections a 24/7 public access defibrillator located on the outside of the BSC main hall. The unit is registered with Yorkshire Ambulance Service.
In July 2016 we became a section of the Brighouse Sports Club giving members additional benefits whilst remaining a separate organisation.
In November 2016 we purchased two 24/7 public access defibrillators for Brighouse Town Centre. One is located outside the Clinik and the second outside Simprint. The unit is registered with Yorkshire Ambulance Service. Funding was from HEARTBEAT, in memory of HEARTBEAT members and from local businesses. Each unit has a plaque listing all donors.
In December 2017 we installed a 24/7 public access defibrillator at the Methodist Church in Clifton.
Two public access 24/7 AED's have been installed in April 2019: one at Bailiff Bridge and one at Southowram. In addition in May we helped Clifton and Lightcliffe Band purchase an AED for them to have at their concerts.
To date HEARTBEAT has helped raise over £20,000 for 13 24/7 public access AEDs.
HEARTBEAT has trained over 250 people in CPR / AED use.
We have a Constitution and a set of Rules and Regulations that ensures the correct running of the group. The annually elected Committee of volunteer Trustees carryout the day to day running of the group in the best interests of the members.
We publish all Committee Meeting Minutes and our Accounts to ensure we are as open as possible to our Members.
We are members of several local groups including: Voluntary Action Calderdale and the Community Foundation For Calderdale.
MEMBERSHIP FIGURES:
Membership Type
Act­ive
Pass­ive
Walk­ers
Tot­al
2023 as at end of October
217
2
20
239
2022 as at end of year
205
3
21
229
2021 as at end of year
208
2
20
230
2020 as at end of year
227
1
17
245
2019 as at end of year
250
3
18
271
2018 as at end of year
218
2
19
239
2017 as at end of year
224
3
18
245
2016 as at end of year
190
3
24
217
2015 as at end of year
196
4
28
228
2014 as at end of year
189
5
28
222
2013 as at end of year
181
5
36
222
2012 as at end of year
176
6
33
215
2011 as at end of year
167
6
31
204
2010 as at end of year
134
6
30
170
2009/10 as at end of year
124
6
28
158
2008/9 as at end of year
92
6
25
123
2007/8 as at end of year
33
5
12
50